Edgar Allan Poe is one of America's most prolific poets. Born in Boston, Massachusetts, Edgar lost his parents at a very early age. He was raised as a foster child by John and Frances Allan in Richmond, Virginia. He was able to attend prestigious boarding schools because of John Allan's wealth. Later on, he studied at the University of Virginia. Although he excelled academically, he was forced to drop out because Allan wouldn't pay for his gambling debts. At this point, his relationship with his foster father started to deteriorate.
In 1827, Edgar enlisted for the army at eighteen years old. He had no job, no skills, and practically no family at this point, so there was nothing else to do. He did well and was able to attain the rank of sergeant major. Two years later, his foster mom died, and in an attempt to rebuild their relationship, John signed Edgar's application to West Point. He entered as a cadet but didn't stay on for long either.
In 1831, he went to New York and had some of his poetry published. He submitted stories to several magazines, but none were published. Still financially unstable, he contacted John Allan for help but received no response. John Allan died three years later. Edgar was absent from his will.
Finally, in 1835, Edgar managed to get a job as a newspaper editor, partly because he won a contest with his story The Manuscript Found in a Bottle. He managed the Southern Literary Messenger successfully, increasing its circulation from 500 copies to 3,500, but left only one year later because of a poor salary. He returned to New York after writing The Narrative of Arthur Gordon Pym yet found no financial success. He then moved to Philadelphia, and in 1838, he wrote "Ligeia" and "The Haunted Palace." He published his first volume of stories in 1839, Tales of the Grotesque and Arabesque, but received nothing except the copyright and twenty copies of the books.
In 1840, Edgar found himself with another regular job working with George R. Graham as editor for Graham's Magazine. In the two years he worked there, he created his first detective story, "The Murders in the Rue Morgue." The magazine's circulation improved from 5,000 to 35,000.
He left Graham's Magazine in 1842 to start his own magazine, The Stylus, but failed. He published several booklets, submitted stories to magazines, and won a hundred dollars for his story "The Gold Bug" but still found no financial success.
In 1849, Edgar Allan Poe died in a hospital. No one knows exactly what had happened to him.
Poe is remembered for many of his works. He wrote both short stories and poetry, most of which were gothic. Some of his best work include "Ligeia," "The Cask of Amontillado," and "The Raven."
"Ligeia" is told from the point of view of Ligeia's unnamed husband. Ligeia is an unconventionally beautiful woman who is also very intelligent. The narrator is distraught upon her death but later on marries a woman named Lady Rowena. Not long after they are married, Rowena suffers from an illness and eventually dies. The narrator stays up for a vigil, and throughout the night, he notices Rowena's body slowly revive and then relapse back into death. The revival and relapse worsen, and by dawn, the body is revived once more. The body of Rowena stands up and unravels the shroud covering her, revealing that she has turned into Ligeia. The story is said to be a darker take on the usual "love never dies" trope in literature.
"The Cask of Amontillado" is a mystery story unlike any other. The story's narrator, Montresor, takes the readers back to the day he took revenge on Fortunato, a nobleman. Montresor describes how he lures Fortunato into a wine-tasting. Once he is drunk, Montresor chains Fortunato and traps him alive by creating a tomb around him. Montresor reveals that fifty years later, Fortunato's body is still where he left it. Unlike many mysteries, readers are not encouraged to look for the murderer but rather the motive. Montresor does not mention in detail the crimes committed against him by Fortunato. It is up to the reader to find out.
"The Raven" is probably the work most associated with Poe. "The Raven" is a narrative poem that tells the story of a talking raven that witnesses the downward spiral of a man in love. The narrator is the man who laments the death of his love, Lenore. While grieving, the man is visited by a raven whom he talks to. The raven only has only one response: "Nevermore." Later on, the man starts asking whether he should forget Lenore. Eventually, the response angers the narrator, and he shoos the raven away. "The Raven" is lauded for its musicality as a poem and its stylized use of the English language.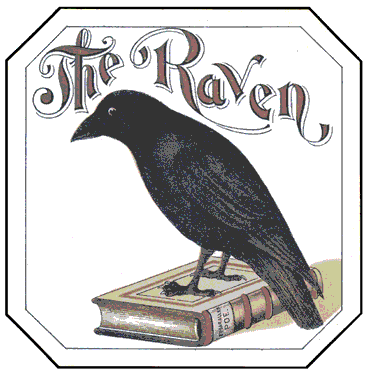 To this day, Poe is regarded as one of the greatest poets who ever lived. The works mentioned above are only a few examples of Poe's contributions to gothic literature.
He was not only a creative writer but also a literary critic who held firm beliefs. Called the Heresy of the Didactic, Poe believes that the aim of genuine poetry was not truth but beauty. Poetry was meant "to invoke an instinctive response to awaken the reader to a sense of his or her own divinity."
Themes of Edgar Allan Poe's work continue to appear throughout popular culture. Some of his homes are now museums dedicated to his legacy. The Mystery Writers of America have named an award for the mystery genre after him, the Edgar Award. Although Poe's life didn't seem like one worth emulating, his legacy still remains.
Sources:
Disclaimer: Images are not ours. Credit to the owner.
About 1-Hour Proofreading
1-Hour Proofreading is a growing start-up offering fast and efficient editing services at a reasonable price with the assurance that the document is publication-ready the soonest you need it. Its team of highly competent professional editors is committed to helping those in need of quality editing services while facing tough deadlines.
Visit
1hourproofreading.com
for more details.
Follow us:    
Back to Grammary