As one of the most renowned English writers in Philippine history, Nick Joaquin crafted memorable stories that not only promoted a multifaceted appreciation for Filipino culture but also presented hard-hitting critique and insights into the religious, political, and socioeconomic history of his overcolonized home country, a true testament to the saying "The pen is mightier than the sword."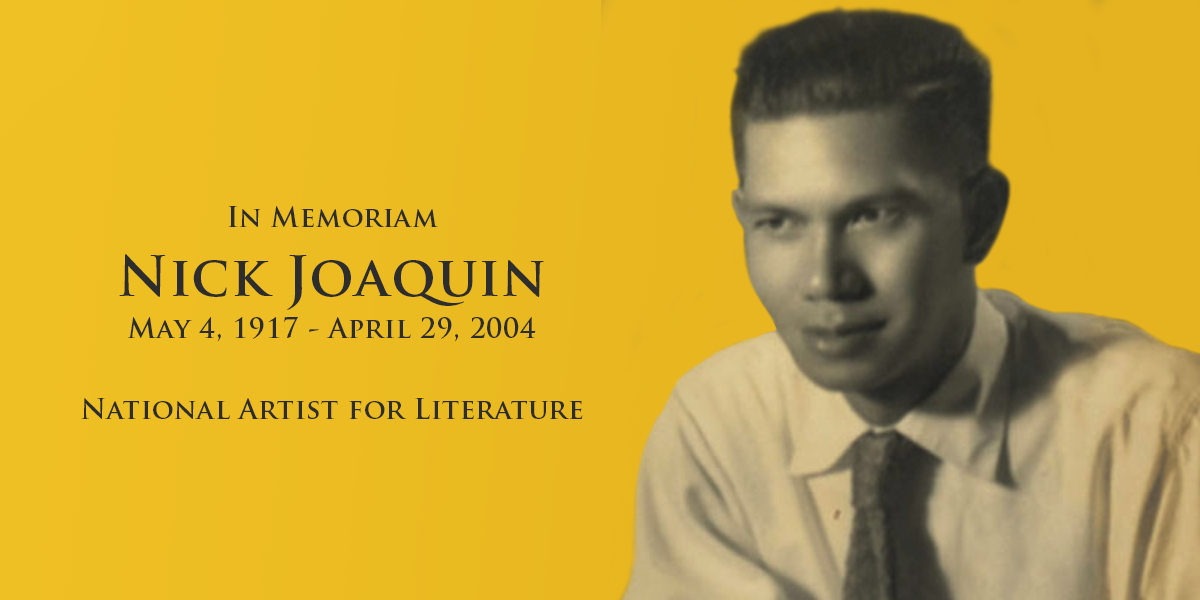 Joaquin was born in Paco, Manila, on May 4, 1917, the fifth of ten children whose mother was an English/Spanish teacher and whose father was a colonel under Gen. Emilio Aguinaldo during the Philippine Revolution of 1896 against Spanish colonizers. As a child, Joaquin was an avid reader of his mother's short stories and of numerous international authors whose works were found in the National Library of the Philippines, of which Joaquin was a regular visitor at the age of ten. Despite his passion for reading and writing, Joaquin later dropped out of high school and went on a religious vocation, which had been recommended by his family.
After his essay "La Naval de Manila" won a Dominican-sponsored writing contest at the University of Santo Tomas in 1943, Joaquin was awarded both an AA (associate in arts) and a two-year scholarship at Albert College in Hong Kong. In the following years, he traveled the world and served as cultural representative to the Philippines in a few countries after World War II. Upon his return in 1950, Joaquin worked as an editor, proofreader, and copywriter for the Philippines Free Press under the pen name Quijano de Manila ("Manila Old-Timer"); he would use the same pen name while writing his future works of fiction.
As an admirer of Philippine national hero José Rizal's works, Joaquin translated Rizal's final poem, "Mi Ultimo Adios," in English ("Land That I Love, Farewell"). In 1952, Joaquin published Prose and Poems, a fictional anthology dealing with various themes such as Filipino Christianity and the conflicting values between precolonial and modern society. In 1961, he published his first novel, The Woman Who Had Two Navels, which centered on the Filipino people's various heritages and search for identity in the midst of colonization. Joaquin's first play, A Portrait of the Artist as Filipino: An Elegy in Three Scenes, was published in 1966 and, to this day, has spawned several adaptations for both the stage and the screen.
Joaquin was named National Artist of the Philippines in 1976 and used his writing and public presence to promote intellectual freedom among Filipinos, a courageous move against the Marcos dictatorship of the time. His criticism of the government continued in the form of news articles that promoted democracy and encouraged public demonstrations against the totalitarian Marcos regime. Joaquin later witnessed the assassination of popular anti-Marcos figure Benigno Aquino Jr. in 1983, which would spark the nationwide and internationally recognized People Power Revolution of 1986 to overthrow the Marcos administration. Joaquin chronicled these events in such works as The Aquinos of Tarlac: An Essay on History as Three Generations (1983) and The Quartet of the Tiger Moon (1986).
Over the next few years, Joaquin penned biographies, journalist pieces, and yet more fictional works, including his second novel, Cave and Shadows ("Now I'll be known as 'the man who has two novels,'" he had quipped after its publication), and such popular magical realism short stories as "May Day Eve," "The Mass of St. Sylvester," "Cándido's Apocalypse," and "Doña Jeronima." In 1996, Joaquin received the Ramon Magsaysay Award for Literature, during which he remarked how journalism had not only taught him the values of perseverance and honesty but also "exercised his powers of storytelling."
Joaquin passed away on April 29, 2004, at the age of eighty-six. He is interred at the Heroes' Cemetery in Fort Bonifacio, Metro Manila.
Sources:
Disclaimer: Images are not ours. Credit to the owner.
About 1-Hour Proofreading
1-Hour Proofreading is a growing start-up offering fast and efficient editing services at a reasonable price, with the assurance that the document is publication-ready the soonest you need it. Its team of highly competent professional editors is committed to helping those in need of quality editing services while facing tough deadlines.
Visit
1hourproofreading.com
for more details.
Follow us:    
Back to Grammary