OUAT's first season introduced us to the magical world of the Enchanted Forest, where, apparently, all fairy-tale characters are connected one way or another. We were also taken to the tiny town of Storybrooke, Maine, where our fairy-tale characters are clueless about their true identities. By now, we know that the Evil Queen and Rumpelstiltskin are in cahoots, only they know the truth about the curse.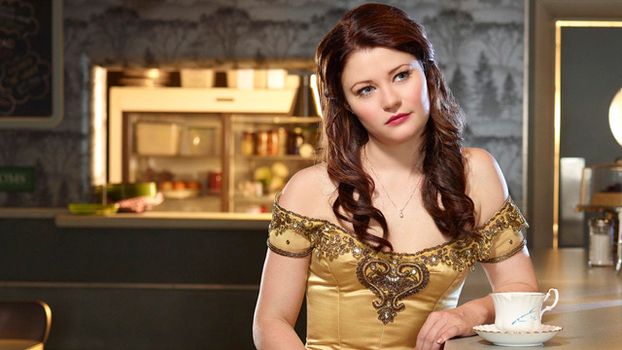 By the end of season 1, we are introduced to Belle, who has a certain relationship with Rumpelstiltskin. The curse could only be broken by one thing—true love's first kiss. The curse breaks, but not in the way we're used to. Everyone's memories are returned, but they didn't return to the Enchanted Forest. Why?
Because good ol' Rumpelstiltskin just whipped up another curse.
So what could happen next?
Warning:  The main purpose of this post is to serve as a guide when watching the series or to spark interest into watching the series, so yes, there WILL be spoilers. Lots of them.
Season Synopsis
In the Enchanted Forest, we see Prince Philip awakening Aurora from her deep slumber. Philip is accompanied by a warrior by the name of Mulan, and although this journey is over, they must now fight against an evil wraith. Also in the Enchanted Forest are Captain Hook, who once worked with Rumpelstiltskin, and Cora, Regina's mother. The two team up and find a way to go to the Otherworld.
In Storybrooke, everyone is reunited as their fairytale characters, but because of Rumpelstiltskin's curse, they are unable to return to the Enchanted Forest. Instead, magic is brought into the real world. Even worse, anyone who crosses over the town line forgets their memories of the Enchanted Forest.
To resolve this, Mary Margaret and Emma travel to the Enchanted Forest through the Mad Hatter's Hat, where some were unaffected by the curse. Along the way, they meet Aurora, Philip, and Mulan and help them defeat the wraith.
In this season, we also see backstories of both Emma and Rumpelstiltskin. Emma has been a lawbreaker since her early years. She and Neal Cassidy, another lawbreaker, enter a relationship and plan to flee to Tallahassee. Later on, August Booth manages to persuade Neal to leave Emma. Rumpelstiltskin, on the other hand, is revealed to have a family, including a son named Baelfire. Rumpelstiltskin becomes the Dark One and abandons Baelfire by traveling through a portal alone. Baelfire is transported to nineteenth-century London and is adopted by the Darling family. Here, he learns that the family is being tortured by an evil being—the Shadow to Neverland. The shadow wants to take one of the family's children, and to save them, Baelfire lets himself be taken instead. Baelfire is later on revealed to be none other than Neal Cassidy, Emma's once lover and Henry's real father.
In the end, Henry is kidnapped by two people who are double-crossing Hook, Greg, and Tamara. It is revealed that the two work for no less than Peter Pan himself.
Fairytale Favorites
Season 2 added more stories and characters to its ever-growing list of canon. Here are some of the most significant appearances in the season:
Alice's Adventures in Wonderland Although Alice is nowhere to be found (she has her own spin-off series), prominent characters such as the Mad Hatter and the Queen of Hearts make appearances. The Mad Hatter has a magical hat that allows people to travel in between worlds, Wonderland being one of them. Cora, Regina's mother, is also revealed to be the Queen of Hearts.
Sleeping Beauty Princess Aurora and Prince Philip live in a part of the Enchanted Forest that was unaffected by Regina's curse. Regardless, their story still happens. Aurora falls into a deep sleep, and Philip manages to rescue her just in time. But this time, he's not alone.
Mulan Although Mulan is more a historical figure than a fairy-tale character, she still makes an appearance here as the warrior who accompanied Philip and helped him save Aurora. Mulan constantly challenges Aurora's view of the world, but in the end, they become close friends.
Peter Pan Peter Pan doesn't make a full appearance until the next season, but something from his story does make its way here—his Shadow. Peter Pan's Shadow is seen as an antagonist who kidnaps young boys and brings them to Neverland.
Beauty and the Beast OUAT's adaptation of this fairy tale is not far from the original. Belle is held captive by the beast, with whom she later falls in love. Here, the beast in none other than Rumpelstiltskin himself.
Staying Strong
The second season's well-woven plotlines kept viewers glued to their screens, eager to find out more. This season not only introduces more characters but also shows the more human side to the fairy-tale characters we thought we already knew.
Read more Once upon a Time series recaps and reviews here:
Disclaimer: Images are not ours. Credit to the owner.
About 1-Hour Proofreading
1-Hour Proofreading is a growing start-up offering fast and efficient editing services at a reasonable price with the assurance that the document is publication-ready the soonest you need it. Its team of highly competent professional editors is committed to helping those in need of quality editing services while facing tough deadlines.
Visit
1hourproofreading.com
for more details.
Follow us:    
Back to Grammary