For part 2 of our OUAT series, we go back to the very beginning. The first season.
Warning:  The main purpose of this post is to serve as a guide when watching the series or to spark interest into watching the series, so yes, there WILL be spoilers. Lots of them.
Season Synopsis
The show begins with the wedding of Snow White to Prince Charming. This is then interrupted by the Evil Queen, Regina, her stepmother. At this point, it is too late for her to stop the union; nevertheless, Regina announces that she will curse all of the Enchanted Forest, leaving her the only one with a happy ending.
We are then transported to a seemingly ordinary restaurant in Boston, where we meet Emma, a bail bondsperson who has been alone for almost all her life. She goes home after work and is shocked by a surprise visit—his son, Henry, whom she gave up for adoption ten years ago. Henry then proceeds to tell her about the strange things that have happened in his town and its strange coincidences with a book of fairy tales that he owns. He also manages to convince her to come home with him.
The moment Emma steps foot in Storybrooke, significant changes start happening. The town clock, which hasn't moved in years, suddenly reads one minute more than it originally does. Everyone is either enamored or intrigued by her presence. And it's not just Emma who has an effect on the town. She seems to always find reasons to stay in Storybrooke every time she attempts to return to Boston. Eventually, she gives up trying to leave and decides to move in with Henry's teacher, Mary Margaret Blanchard. She also takes up a position as an assistant deputy at the town's police station.
Fairytale Favorites
For the first season, here are the characters and stories that found their way into Storybrooke:
Snow White and the Seven Dwarfs The main storyline of OUAT revolves around the story of Snow White. In fact, her supposed daughter is the protagonist of the show. After the curse hit the Enchanted Forest, Snow White becomes Mary Margaret Blanchard, a teacher and regular volunteer at the hospital. She is intrigued by the hospital's resident, John Doe, an unidentified man who has been in a coma for as long as everyone remembers. This John Doe is actually David Nolan, Prince Charming's nonmagical alter ego. The Evil Queen is Mayor Regina Mills, one of only two people who remember their true identities. The dwarfs also make an appearance as humble workers in the Storybrooke mines. The Huntsman is also in the story as Sheriff Graham Humbert, the town's chief police.
Rumpelstiltskin Rumpelstiltskin is the other person who has been immune to the curse because he's the one who created it. Unlike in the original story, Rumpelstiltskin's magic is all powerful and all encompassing. In Storybrooke, he still works as pawnbroker Mr. Gold, working undercover in magic trade. Everyone knows him for his favorite tagline: "All magic comes with a price."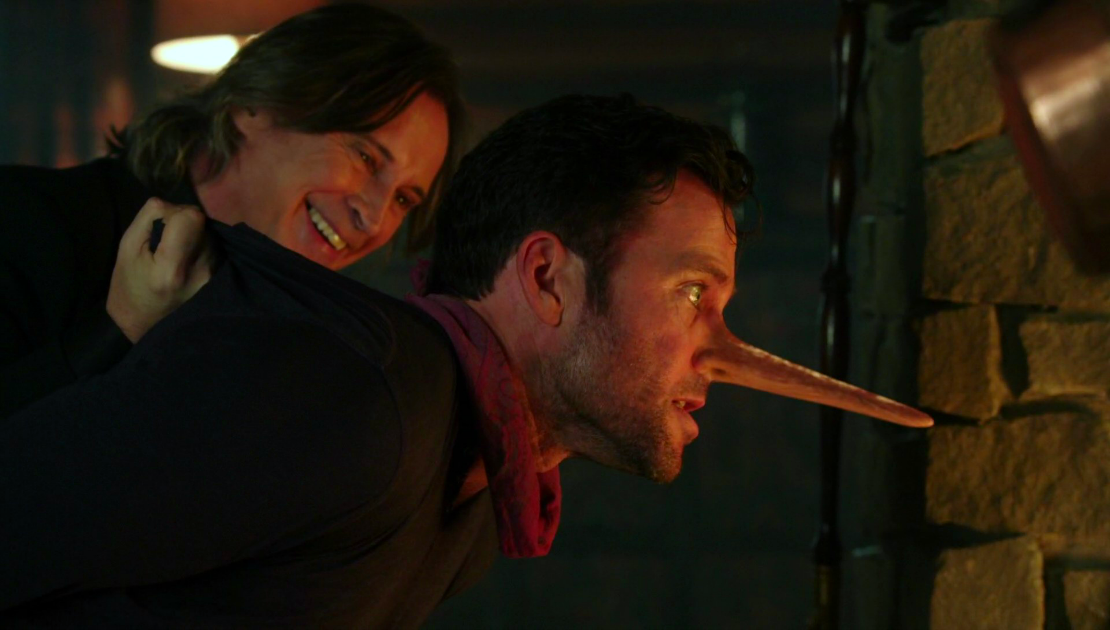 Pinocchio In the Enchanted Forest, Geppetto is the best wood-carver in town and was in charge of creating the magic cabinet that was supposed to protect Snow White and Emma from the spell and bring them to the Other World. He selfishly let his son, Pinocchio, pass through the cabinet first, causing Pinocchio to slowly turn into a wooden puppet in the real world. Pinocchio becomes August W. Booth, who was sent to the Other World to watch over Emma. Jiminy Cricket also makes an appearance. In the Enchanted Forest, he is one of Snow White and Prince Charming's most trusted advisers. In Storybrooke, he is Dr. Archie Hopper, Henry's psychiatrist.
Little Red Riding Hood In Storybooke, Granny and Ruby run the town's diner and bed-and-breakfast. Ruby is a hardheaded party girl who often butts heads with her grandmother, Widow Lucas. One episode shows Ruby's backstory and reveals a twist in her true identity.
Cinderella Cinderella appears in a single-arc episode. As Cinderella, she trades her firstborn child for her happily ever after from Rumpelstiltskin. Refusing to push through with the deal, she connives with the Blue Fairy and saves her daughter. But since Rumpelstiltskin always gets his side of the bargain, he takes her prince instead. In Storybrooke, Cinderella is a young woman named Ashley Boyd. She has a baby with Sean Hermann, but as soon as the baby's grandfather threatens to take her away, she decides to run away. Emma manages to convince her to return, saying that she has to give her child her best chance in life.
Hansel and Gretel Hansel and Gretel appear in yet another single-arc episode. In Storybrooke, Henry meets a young girl named Ava and her brother, Nicholas. The two soon influence Henry to shoplift for them, and when Henry gets caught red-handed, the true story is revealed. The twins have no parents and are constantly running away from the foster care system for fear of being separated. Emma makes an effort to look for the children's father and promises that she will make sure they never get separated.
Great Beginnings
OUAT's first season is definitely one of the best. Here, showrunners Kitsis and Horowitz manage to show off their writing prowess, tying in each story with another in a way that just makes sense.
Since all the episodes move back and forth between events occurring in the real world and in the fairy-tale stories, it's easy to spot who's who. What sets apart OUAT from other series is how well all the fairy tales are magically intertwined.
Does the season have proper closure? Definitely. The season finale provides a resolution to the original dilemma presented at the start but blows open yet another storyline.
Read more Once upon a Time series recaps and reviews here:
Disclaimer: Images are not ours. Credit to the owner.
About 1-Hour Proofreading
1-Hour Proofreading is a growing start-up offering fast and efficient editing services at a reasonable price with the assurance that the document is publication-ready the soonest you need it. Its team of highly competent professional editors is committed to helping those in need of quality editing services while facing tough deadlines.
Visit
1hourproofreading.com
for more details.
Follow us:    
Back to Grammary