Miguel de Cervantes is one of Spain's most renowned literary figures. But other than his success in literature, Cervantes was also a prominent military figure.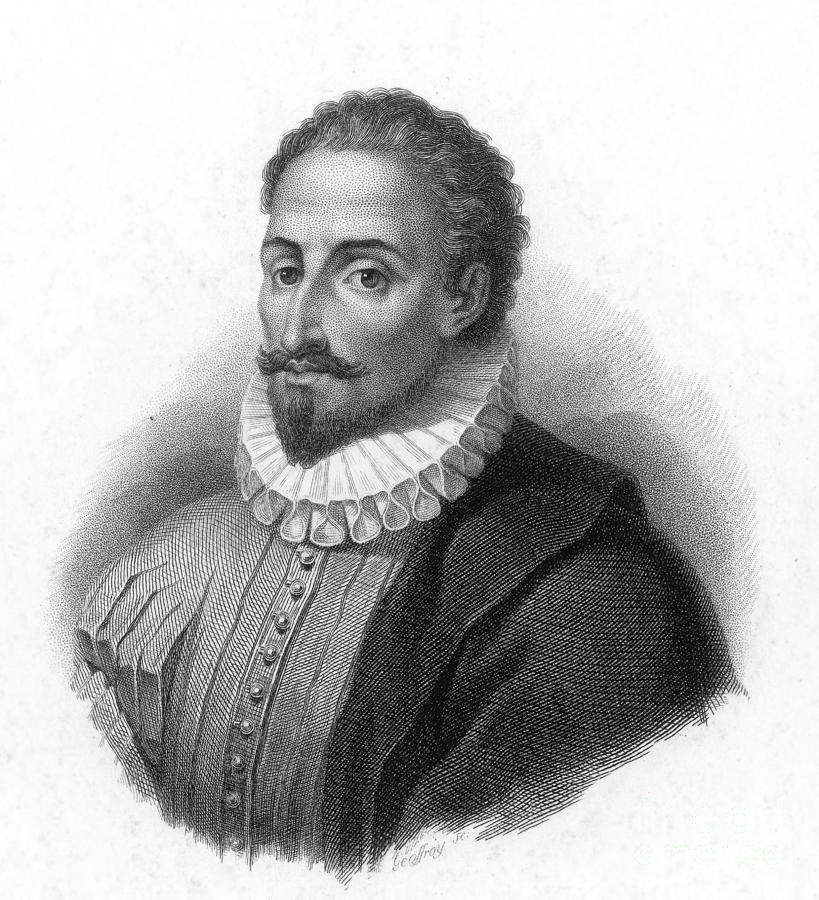 Most of the early details of his life remain unknown because of the lack of available documentation during his time. Most of what is known about him comes from his own works. He is the fourth of seven children, and he was born September 29 in a town twenty miles from Madrid. Their family moved town to town often, and although he studied under Jesuits for a time, he did not have formal education in a university. He also studied under the tutelage of Juan Lopez de Hoyos, an Erasmist intellectual who referred to Cervantes as his beloved pupil. Cervantes published his first poem at the age of twenty-one on the death of Queen Elizabeth of Valois.
He moved to Italy the same year and enlisted as a soldier in an infantry regiment stationed in Naples, which used to be a Spanish colony. In 1571, he sailed on the Marquesa to engage in battle against the Ottoman Empire. Although he was stricken with a fever, he fought and was shot twice on the chest and once on his left hand. He was unable to use his left hand since then. During his service from 1572 to 1575, he also saw action in Tunis and La Goleta. On the side, he studied Italian literature.
In 1575, he and his brother Rodrigo sailed back to Spain. The ship was attacked by Barbary pirates, and both of them were sold to slavery in Algiers. He carried letters that the captors considered of great importance, and his ransom price was raised. While this protected him from death and torture, this also lengthened his capture. He was held three years longer than his brother. This inspired many of his future literary works.
After his return in Spain, Cervantes's life remained largely monotonous. It took him twenty-five years to hit it big in literature with Don Quixote. The first volume of the book came out in 1605, published by Francisco de Robles. The second volume came out in 1615. By now, Don Quixote had been published twice in Madrid, twice in Lisbon, and once in Valencia. It had also been published in Brussels and Milan and translated in English.
Don Quixote follows the story of a nobleman names Alonso Quixano, a fan of chivalrous romances. He decides to set out to revive chivalry and adopts the name Don Quixote de la Mancha. He recruits a squire named Sancho, who serves as a contrast to Quixano's archaic ideals. The story puts together various adventures of theirs. The success of the novel is due to the exploration of many cultural beliefs and ideals that Cervantes presented.
Throughout the course of his life, Cervantes created many plays, novellas, poems, and short stories, none of which came to par with the success of Don Quixote. Cervantes died in 1616 in what is now known to be the Calle de Lope de Vega.
Don Quixote remains a source of inspiration for many cultural adaptations. It is also known as the most influential work of literature from the Spanish Golden Age. One of the most popular adaptations is the musical Man of La Mancha, which debuted in 1964. The musical won five Tony Awards and has been revived four times on Broadway. The musical popularized the song "The Impossible Dream." Another known adaptation is the novel Madame Bovary by Gustave Flaubert. The lead character of the same name seeks to escape a provincial life and fantasizes a life similar to that in her favorite romance and historical novels.
Source:
Disclaimer: Images are not ours. Credit to the owner.
About 1-Hour Proofreading
1-Hour Proofreading is a growing start-up offering fast and efficient editing services at a reasonable price with the assurance that the document is publication-ready the soonest you need it. Its team of highly competent professional editors is committed to helping those in need of quality editing services while facing tough deadlines.
Visit
1hourproofreading.com
for more details.
Follow us:    
Back to Grammary