Most popular authors undergo rejection from their publishers on their first try, and James Dashner is no exception to this. Dashner, the man who gave us the Maze Runner series, has definitely had his fair share of ups and downs before becoming the successful writer we know today.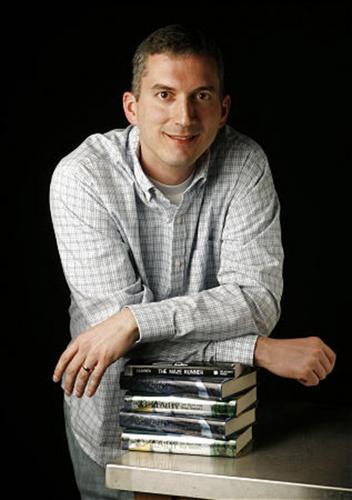 Born in 1972, Dashner has been an avid reader since childhood. He cites Stephen King as his favorite author and admits that The Shining has had a huge influence in his works.
Before he became a full-time writer, he was in the finance department, working as an accountant. He spent seven years in the field, but he notes that being an accountant was a practical choice for him as writers don't really earn much from writing books. Before The Maze Runner, he managed to publish other book series, including the Jimmy Fincher Saga and the 13th Reality series.
Dashner's imaginative mind was shaped by his love for adventure, survival games and movies, and the science-fiction genre. When he's writing a story, he imagines it first as how he would see it in the movies, and then he puts everything down into words. He also reveals that there is a little bit of himself in his characters, and every remarkable person he meets somehow makes it into his storylines.
His big break came in 2005 in the form of The Maze Runner. The idea of The Maze Runner first came to him when he was about to go to bed one night, but for some unknown reason, he suddenly pictured a giant stone maze in his head—an unfathomable maze wherein a bunch of teenagers were locked in, together with terrible and hideous creatures that threatened their lives. The idea fascinated him so much, and it was all so abrupt—Dashner jumped out of his bed, grabbed a pen and a notebook, and wrote everything down. That moment led to the story of The Maze Runner, a dystopian novel that follows a teenage boy named Thomas.
In 2005, the first version of the Maze Runner trilogy was completed, but unfortunately, it was rejected by the publishers. Dashner didn't give up on it though. He decided to wait until he could hone his skills as a writer, and when he felt ready, he rewrote the whole thing.
It was a long process, but indeed, good things come to those who wait. In 2009, The Maze Runner was published, and since then, the series has grown into a successful franchise. There are five books in the series, two of which are prequels, and there are a total of three movies, one of which is yet to be released in 2018.
The success of the Maze Runner series is backed by a huge and solid fanbase who are very vocal about their love for the series in various social networking sites. However, unlike most authors who take into account fans' reactions and ideas into their own work, Dashner insists on keeping his own ideas intact and uninfluenced by sensitive and passionate fans. His resilient technique in writing made him a favorite among young adult readers—if a character is supposed to die, then that character dies, and it doesn't matter if he's one of the most loved characters in the series.
He started from the bottom, and now he's here—winning awards for his books and being an influential person to his fans and his fellow writers. He has earned a lot, has quit his job as an accountant, and is happy being a full-time writer, delivering the kind of stories that only he could write.
Following the Maze Runner series, he has also written the Infinity Ring series and the Mortality Doctrine series. As of now, though, he's taking a break from writing series and is focusing on writing stand-alone novels, hoping it will capture the attention of a more mature audience.
Loving the Author Highlight series? Well, you're in for a treat! We at 1-Hour Proofreading celebrate all writers, regardless of genre and style. How about you? Who's your favorite author? Or maybe you're a writer who wants to be featured? Shoot us a message, and watch out for more Author Highlights!
Sources:
Disclaimer: Images are not ours. Credit to the owner.
About 1-Hour Proofreading
1-Hour Proofreading is a growing start-up offering fast and efficient editing services at a reasonable price, with the assurance that the document is publication-ready the soonest you need it. Its team of highly competent professional editors is committed to helping those in need of quality editing services while facing tough deadlines.
Visit
1hourproofreading.com
for more details.
Follow us:    
Back to Grammary