It's the holidays once more. Other than grappling with what to get our friends and family for Christmas, all of us have one more dilemma that we try to keep low-key: coming up with nongeneric messages for Christmas cards.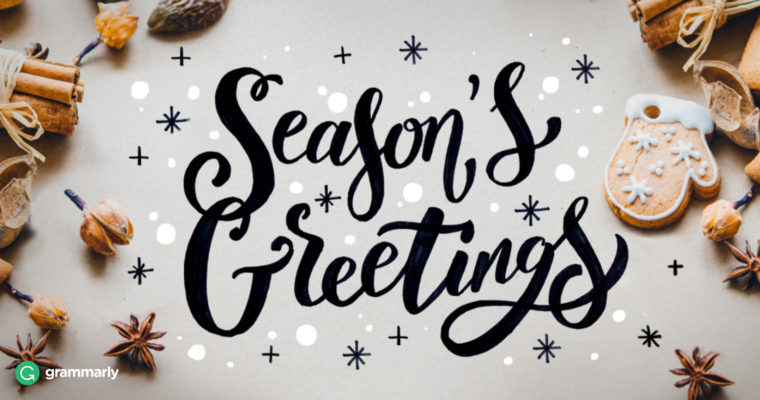 It is common knowledge that Christmas is technically a Christian holiday. However, the Christmas season has become a cultural phenomenon celebrated even by non-Christians. Plus, other religions also celebrate different holidays in December. That's why these alternatives are important to know.


Merry Christmas





The most popular holiday greeting. This phrase got popular as early as the fourteenth century. The phrase is usually compounded with "And a Happy New Year." Charles Dickens's use of the phrase in the widely popular A Christmas Carol further cemented the phrase into history. "Happy Christmas" is also popular, more so in the United Kingdom than anywhere else because it was the preferred greeting of Queen Elizabeth I.



Happy Holidays





This phrase is a generic Christmas greeting popular in the United States. "Happy Holidays" is a greeting preferred by those who do not associate the Christmas season to Christian faith or those who celebrate other holidays during the same time as Christmas, such as Hanukkah and Kwanzaa. This greeting is also popular because of how close the dates of American Thanksgiving, Christmas, and New Year's Day are.



Season's Greetings





Other than "Merry Christmas," Victorian England also sought different ways of celebrating the holiday. Victorian Christmas cards would sometimes contain more formal messages, such as "Compliments of the Season," "Christmas Greetings," and "With the Season's Greetings." The phrases were shortened to "Season's Greetings" around the 1920s. The phrase was further made popular by US presidents such as Dwight D. Eisenhower, who used it on Christmas cards from the White House.



Happy Hanukkah





Those of the Jewish faith celebrate Hanukkah, or the Festival of Lights, during December. Hanukkah celebrates the rededication of the Second Temple. The holiday is observed for eight nights and eight days, during which a candelabra called the menorah is lit. While there is much contention to how Hanukkah is actually spelled (Hannukah, Chanukah, Hanukka, Hanuka, etc.), what's important is to recognize and celebrate the holiday itself.



Joyous Kwanzaa





Kwanzaa is a holiday celebrated in the United States and Western African countries. The holiday is celebrated from December 26 to January 1 and commemorates African American tradition. It is said that the name of the holiday comes from the Swahili phrase Matunda ya kwanza, which means "first fruits of harvest." Much like other holidays of the season, Kwanzaa is met with a feast.
Season's greetings from 1-Hour Proofreading! Much like Santa's elves, our editors are working overtime during the holidays to provide our services to you. Beat the holiday work rush! Check out our main site, and get your quotation today!
Sources:
Disclaimer: Images are not ours. Credit to the owner.
About 1-Hour Proofreading
1-Hour Proofreading is a growing start-up offering fast and efficient editing services at a reasonable price, with the assurance that the document is publication-ready the soonest you need it. Its team of highly competent professional editors is committed to helping those in need of quality editing services while facing tough deadlines.
Visit
1hourproofreading.com
for more details.
Follow us:    
Back to Grammary