With themes ranging from celestial origins to court intrigue, Jacqueline Carey's stories of high fancy and historical fantasy would bedazzle any reader and leave them wanting for more. She is adept at weaving worlds tinged with romance, religion, espionage, and war, as well as creating strong yet tormented characters who defy their own fates.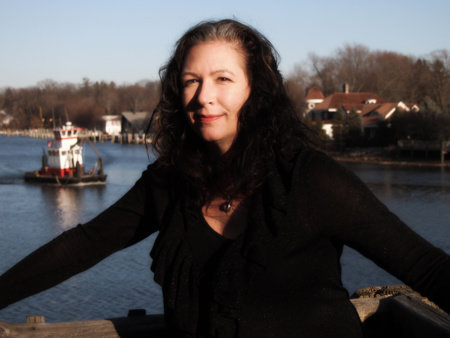 Carey was born on October 9, 1964, in Highland Park, Illinois. She graduated from Lake Forest College in 1986 with BA degrees in psychology and English literature. Her love for writing fiction began when she spent six months working at a London bookstore during her college years. When she returned to the United States, she started her writing career while working at a local college and traveled to several countries on her spare time, ranging from Finland to Egypt, and her travels would heavily influence the settings of her fantasy works.
At least ten years later, Carey published the first book of her first (and what would be her most popular) fantasy series—the Kushiel series, consisting of two trilogies—entitled Kushiel's Dart (2001). In the novel, first in Carey's Phèdre trilogy, begins the story of Phèdre nò Delaunay, a girl born in the fictional land of Terre d'Ange and raised as a courtesan in service of the deity of sexuality, Naamah; she is hired as a spy to investigate the D'Angeline nobles of Terre d'Ange and finds herself too tightly wound into the world's societal webs of court drama, scandals, murders, and imminent war. Kushiel's Dart was awarded the 2002 Locus Award for Best First Novel and was shortly followed by Kushiel's Chosen (2002) and Kushiel's Avatar (2003).
Carey sets the second trilogy of the Kushiel series—known as the Imriel trilogy, consisting of Kushiel's Scion (2006), Kushiel's Justice (2007), and Kushiel's Mercy (2008)—in the fictitious Terre d'Ange as well but features a different protagonist. In the continuation of the Phèdre trilogy, a young man named Imriel, the adopted son of Phèdre, is third in line for the D'Angeline throne. Rebellious and hotheaded but possessing equal kindness and generosity, Imriel finds himself involuntarily involved in the hidden schemes of Terre d'Ange and the Night Court, where his adoptive mother had served in her youth.
The third fantasy trilogy under Carey's belt takes place a century after the Kushiel series. The Moirin trilogy, which includes Naamah's Kiss (2009), Naamah's Curse (2010), and Naamah's Blessing (2011), centers on the life of Moirin, a girl raised by her reclusive mother and possessing mysterious abilities, such as becoming invisible and making plants grow. After a sudden tragedy in her tribe, Moirin sets herself on the path to discover the identity of her father, and when she arrives in Terre d'Ange and exposes herself to every kind of danger, she will need more than just her wits and talents to survive.
While writing the Moirin trilogy, Carey also worked on the Santa Olivia duology, a large step away from her usual historical works as this was a modern-day fantasy series. In Santa Olivia (2009) and Saints Astray (2011), a young woman named Loup Garron, raised in an isolated town near a US military base, inherits the wolflike superpowers of her unknown father, such as superhuman strength, speed, stamina, and a total lack of fear, and becomes a beacon of hope against the injustices rampant in her territory.
Carey's latest and second modern-day fantasy trilogy was published from 2012 to 2014 and made up of Dark Currents (2012), Autumn Bones (2013), and Poison Fruit (2014). Known as the Agent of Hel series, the trilogy revolves around Daisy Johanssen, a police enforcer who helps keep the peace in the small but popular town of Pemkowet, home to all manner of tourist attractions, friendly residents, and paranormal races. When a young college student is found murdered in town, Daisy teams up with half-werewolf, Officer Cody Fairfax, to solve the case and stave off the air of insidious mystery surrounding Pemkowet.
As of late, Carey has taken a break from writing series and has published a couple of standalone fantasy novels, such as Miranda and Caliban (2017), a dark and sultry take on Shakespeare's The Tempest, and Starless (2018), the epic tale of a loyal yet unassuming "shadow" protector named Khai, charged with the duty to safeguard his king's youngest daughter, Zariya. Carey is also presently residing in Western Michigan and is a member of the state's oldest Mardi Gras krewe.
Interested in reading more of our Author's Highlights entries? Check out our 1-Hour Proofreading blog for regular updates!
Sources:
Disclaimer: Images are not ours. Credit to the owner.
About 1-Hour Proofreading
1-Hour Proofreading is a growing start-up offering fast and efficient editing services at a reasonable price with the assurance that the document is publication-ready the soonest you need it. Its team of highly competent professional editors is committed to helping those in need of quality editing services while facing tough deadlines.
Visit
1hourproofreading.com
for more details.
Follow us:    
Back to Grammary