Christmas is a holiday of tradition: the exchange of gifts, the exchange of songs, and the exchange of stories. The most important story of Christmas is the birth of Jesus Christ, but many writers have also created equally uplifting stories of hope and love set in the holiday season. Charles Dickens is perhaps one of the greatest writers of Christmas tales.
Born in the early 1800s, Dickens was aware of poverty from an early age. He started working when he was as young as twelve years old to contribute to the family after his father was imprisoned. Dickens never returned to school, but his immense interest in books allowed him to have a great career in literature. Other than creating stories that are popular to this day, Dickens also worked as an editor for twenty years.
Oliver Twist, David Copperfield, Great Expectations, and A Tale of Two Cities are only some of Dickens's most popular works. Dickens's stories are often set in impoverished Victorian London and often contain comedic dialogue. Today we know the word "Dickensian" to describe literature that reflects his writing style, most notably the presence of poor social conditions. Dickens's use of this perspective allowed him to shine a light on underprivileged members of society. Most of his stories are also observations of Victorian society.
Other than his focus on lower-class Victorian society, Charles Dickens is also credited for turning Christmas into a cultural phenomenon. During his time, Christmas was no more than a religious holiday. However, A Christmas Carol changed the way people viewed the holiday.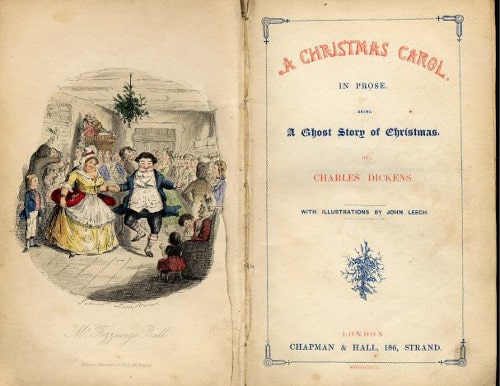 A Christmas Carol is the story of Ebenezer Scrooge, a stingy old man who dislikes the holidays. Scrooge is greedy, selfish, and is the exact opposite of the Christmas spirit. One Christmas night Scrooge is visited by three ghosts: the Ghost of Christmas Past, the Ghost of Christmas Present, and the Ghost of Christmas Yet to Come. The three ghosts alternately take him on a tour of his own life, playing back his life, showing him why he became the man he was, and explaining what could happen in his future should he continue his behavior. In the end, Scrooge makes an effort to change his ways.
A Christmas Carol has been adapted across various media many times, and today it's still one of the greatest Christmas tales ever told.
This holiday season, we are telling the stories of the best Christmas storytellers. Watch out for more Christmas specials on our blog! For editing needs throughout the holidays, visit our main site at 1hourproofreading.com. Season's greetings!
Sources:
Disclaimer: Images are not ours. Credit to the owner.
About 1-Hour Proofreading
1-Hour Proofreading is a growing start-up offering fast and efficient editing services at a reasonable price, with the assurance that the document is publication-ready the soonest you need it. Its team of highly competent professional editors is committed to helping those in need of quality editing services while facing tough deadlines.
Visit
1hourproofreading.com
for more details.
Follow us:    
Back to Grammary