Writers wear many hats. They aren't just writers; they're also directors, educators, activists, and so much more. Ayn Rand, a Russian American author, has successfully made a name for herself, not only as a writer across various media, but also as an activist and philosopher pioneering the Objectivist movement. Though she has since passed on, her legacy lives on in the pages of The Fountainhead and Atlas Shrugged.
Ayn Rand, as she is contemporarily known, was actually born Alisa Zinovyevna Rosenbaum. Being born in St. Petersburg to a middle-class family meant that she had access to education. As early as eight years old, she was already writing screenplays; and at ten, she started writing novels.
In 1917, when she was twelve years old, she and her family fled to the Crimean peninsula during the February Revolution and the rule of the Bolsheviks. They stayed there until Rand graduated from high school, then returned to St. Petersburg. Unfortunately, they weren't able to return to the life they previously enjoyed. They ended up living in poverty.
After the revolution, Russian universities were opened for attendance to women. Rand, at the age of sixteen, became one of the first women to enter Petrograd State University. Majoring in history and social pedagogy, Rand was introduced to many philosophers and writers, such as Plato, Nietzsche, Aristotle, Hugo, and Dostoevsky, who later influenced her own writing. In 1924, she finished her education and was purged from the university, along with other "bourgeois" students. Around this time, she started using Ayn Rand as her penname.
Rand visited relatives in Chicago after her graduation. She also visited New York and fell in love with the city almost immediately. So she decided to stay and become a screenwriter. In order to do this, she stayed with her relatives for a few months before moving to Hollywood, California, to pursue her writing dreams. She took on various jobs in Hollywood in order to support her writing.
Her first screenplay was Red Pawn, bought by Universal Studios in 1932. Unfortunately, it didn't make it to the silver screen. This was followed by Night of January 16th in 1934, a courtroom drama. The film was successful in Hollywood, as well as on Broadway, where it was adapted as a stage play. The Broadway version included audience participation as the jury, making each show unique for each audience.
Rand later forayed into publications, with the semiautobiographical novel We the Living being her first book. She also wrote a novella called Anthem, a dystopian story set in the future, wherein a totalitarian collectivism has taken over the world. In this dystopian future, the word "I" has been replaced completely with "We."
Rand became highly involved with politics in the '40s. Her 1943 novel The Fountainhead is about an architect named Howard Roark and his struggles against "second-handers," people who attempt to live through others. Unlike We the Living, Rand did not directly contradict collectivism, rather used philosophical ideas in order to contrast individualism and collectivism and man's motivations to choose one over the other. The novel was a success and gave Rand financial security for a long time. She sold the film rights to Warner Bros. in 1943 and returned to Hollywood to write the screenplay. She wrote other screenplays as well, including Love Letters and You Came Along. Rand returned to New York City in 1951.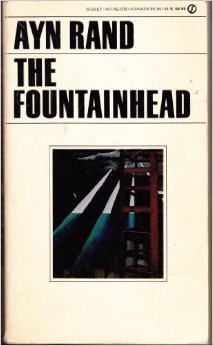 Six years after returning to New York, Rand published what is now considered her best work: Atlas Shrugged. The novel is set in a dystopian Unites States where industrialists, scientists, and artists go on strike and move to the mountains in order to build an independent economy. The novel introduces Objectivism, the philosophy Rand is most known for. The novel marked the end of Rand's career as a novelist but debuted her to becoming a philosopher.
Objectivism is Rand's most popular contribution to philosophy. The core of most of her stories is the idea that there is no greater moral goal than achieving happiness without wish or whim.
In the '60s and '70s, Rand promoted Objectivism by conducting lectures and writing nonfiction books. She spoke at Yale, Princeton, Columbia, Harvard, MIT, and similar institutions. Her support for issues like abortion rights was unrestrained, and her opposition to the United States' involvement in the Vietnam War was unrelenting.
In 1974, Rand had to undergo surgery after having contracted lung cancer from decades of perennial smoking. She retired from writing in 1976, and toward the end of the '70s, her involvement in the Objectivist movement started to decline. One of her final projects was the never-completed TV adaptation of her magnum opus, Atlas Shrugged. She passed away in March 6, 1982, at her home in New York City.
Sources:
Disclaimer: Images are not ours. Credit to the owner.
About 1-Hour Proofreading
1-Hour Proofreading is a growing start-up offering fast and efficient editing services at a reasonable price, with the assurance that the document is publication-ready the soonest you need it. Its team of highly competent professional editors is committed to helping those in need of quality editing services while facing tough deadlines.
Visit
1hourproofreading.com
for more details.
Follow us:    
Back to Grammary